If you have slipped on a wet floor at work, you may be under the impression that it is just bad luck. However, if the incident occurred because your employer had not taken reasonable action to protect you from such an incident, you may be able to make a personal injury claim against them. Employers, after all, have a legal duty to protect their employees' health and safety. If they fail in this regard, you could hold them liable for injuries you sustain as a result. But surely there are some incidents of slipping on a wet floor at work that your employer would not be liable for? Or would they be responsible for every slip, trip and fall that causes injuries in the workplace? This guide explains all you need to know about when you could be eligible to claim for slipping on a wet floor at work.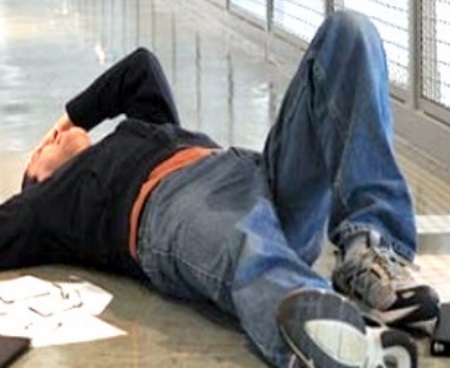 In the sections below, we discuss the types of slippery floor incidents that could lead to a claim. We explain the duty of care employers have towards slip prevention, and the types of injuries employees could sustain if they slip on a wet floor at work. We also offer some guidance on how courts and lawyers calculate compensation payouts.
Finally, we show you how, with free legal advice from our team, you could begin a claim for compensation. If you'd like to get started right away or obtain a free eligibility check, you can reach our team on 0161 696 9685.
Select A Section
A Guide To Claims If You Slipped On A Wet Floor At Work
Have you slipped on a wet floor at work? Has the slipping incident caused you to sustain injuries? If so, you could be eligible to claim compensation from your employer. Slips, trips and falls on one level are the most common accidents that lead to non-fatal workplace injuries, according to the Health and Safety Executive. If you sustain injuries from a slip incident that could have been prevented by your employer, you could hold them liable for the pain and suffering you experience as a result, as well as the financial expense your injuries cause.
This guide answers many of the common questions surrounding slip at work injuries, including:
Why is a wet floor considered a hazard?
Can you claim for slipping on a wet floor if there is no signage?
How much does a slip and fall cost?
Can you sue if there is a wet floor sign?
We also give some guidance on the types of slip, trip and fall incidents that could lead to a claim and what injuries could be considered common in such incidents. Finally, we explain how No Win No Fee claims could benefit you, by giving you the assistance of a personal injury solicitor without you having to pay upfront for their services.
Calculating Compensation If You Slipped On A Wet Floor At Work
Compensation amounts vary wildly between cases. No two cases are precisely the same, and if someone you know has also slipped on a wet floor at work, then their compensation payout could be very different from yours. Lawyers and courts must assess the individual circumstances and facts of each case on its own merit, as well as the medical evidence. They must do this before they could come to an appropriate value for your claim. This is why we would advise you to be aware that any figures you obtain from a personal injury claims calculator are only rough estimates.
The Role Of The Medical Report
When you make a personal injury claim, you would be required to attend a medical assessment appointment. An independent medical expert would review your past medical notes (if available), assess your injuries, and compile a report containing their professional opinion on your injuries and prognosis. This report could link your injuries to the accident. If so, the courts and lawyers could use this report to come to an appropriate value for your compensation.
They could also use a publication called the Judicial College Guidelines to help work out how much could be appropriate. The table below contains figures taken from this publication, to give you an insight into compensation guidelines for specific injuries. If you cannot see your injury, please call us. We could offer further guidance over the phone.

| Injury Site | Severity | Guideline Payout Amount |
| --- | --- | --- |
| Shoulder | Severe | £18,020 to £45,070 |
| Shoulder | Serious | £11,980 to £18,020 |
| Shoulder | Moderate | £7,410 to £11,980 |
| Shoulder | Minor | Up to £7,410 |
| Clavicle | Fracture | £4,830 to £11,490 |
| Wrist | (a)    Causing complete function loss | £44,690 to £56,180 |
| Wrist | (b)    Where some movement remains but there is a significant disability that is permanent. | £22,990 to £36,770 |
| Wrist | (c)     Some permanent disability such as pain and stiffness, but less severe injury | £11,820 to £22,990 |
| Knee | Severe (i) | £65,440 to £90,290 |
| Knee | Severe (ii) | £48,920 to £65,440 |
| Knee | Severe (iii) | £24,580 to £40,770 |
| Knee | Moderate (i) | £13,920 to £24,580 |
| Knee | Moderate (ii) | Up to £12,900 |
| Ankle | Very severe | £46,980 to £65,420 |
| Ankle | Severe | £29,380 to £46,980 |
| Ankle | Moderate | £12,900 to £24,950 |
| Ankle | Modest | Up to £12,900 |
Workplace Wet Floor Slip: Special Damages
If you've sustained injuries when you've slipped on a wet floor at work, you may be under the impression that your compensation payout would only compensate you for the suffering and pain of your injury. However, there are different types of damages that make up compensation payouts. We explain what damages you could claim below.
General Damages
These types of damages are illustrated in the table in the above section. They compensate personal injury victims for the loss of amenity, pain and suffering their injury has caused them. As we mentioned earlier, courts and lawyers would come to an appropriate general damages settlement by assessing how severe your injuries are and how they affect you.
Special Damages
Some injuries cause victims to experience financial loss. If you sustain the below expenses as a direct result of your injuries, you could claim those expenses as special damages.
Loss Of Earnings
Taking time off work to recover from an injury is something that many injured parties do. If you have lost out on income because you've taken time off work to recover, you could claim for loss of earnings. Your loss of earnings claim could also in some cases include bonuses and overtime.
Care Costs
If a serious injury has left you unable to care for yourself, you may require care at home. If so, you could include the costs of such care within your personal injury claim.
Medical Expenses
You could include medical expenses such as prescription costs, mobility aids and even private physiotherapy fees within your claim.
Travel Costs
Costs associated with travelling to medical appointments and appointments with your lawyer could also be considered special damages.
Proof Of Costs And Losses
To prove that you have encountered pecuniary (financial) costs due to your injuries, you would need to provide documentary evidence such as receipts, payslips, bills and bank statements. If you do not retain the proof of costs and losses, it may not be possible for you to claim for them.
What Is A Slipped On A Wet Floor At Work Accident?
There are many reasons why you may have slipped on a wet floor at work and many different ways in which it could have caused you injury. Whether you slipped on a spillage that had not been cleared up in the canteen, or you slipped because the cleaner had not signposted that the floor was wet, you may be wondering whether this is an accident that could have been prevented.
What type of hazard is slipping on a wet floor?
Your employer has a legal duty to look after your health and safety at work, and one of their legal duties is to identify hazards in the workplace and take steps to protect you from suffering harm because of those hazards. A slip hazard in the workplace could be caused by:
Not using the right amount of cleaning product
Poor maintenance of cleaning equipment
Not allowing enough time for detergent to work on a greasy floor
Failing to reduce drying time by not using a dry mop or squeegee
Not using wet floor signage
Poor cleaning schedules (for example, performing cleaning when there are lots of people around)
Failure to clear up a spillage quickly
Could I claim for slipping on a wet floor?
To make a compensation claim for slipping on a wet floor at work, you would have to prove that someone else (i.e. your employer) was to blame for your injuries. They could be held responsible if there were hazards that were reasonably foreseeable, but your employer failed to protect you from them. You would also have to ensure you claim within the relevant personal injury claims time limit. Usually, this is three years. However, there are some exceptions that could apply to this. If you're unsure as to whether you could be eligible to claim, our advisors could provide free legal advice to you over the phone.
Employers Duty Of Care To Prevent Wet Floor Accidents
Generally, an employer has a duty of care to protect their employees from work-related harm to their health. As part of this, they have a responsibility to ensure that flooring (both outside and inside the workplace) is free from slip hazards. This could include water spills, a wet floor due to leaking pipes, and other causes of a slippery floor, such as poor maintenance of surfaces.
The HSE provides guidance to businesses on how slip hazards could be removed or reduced. It recognises that there are some businesses that may require additional guidance, particularly if these workplaces contain kitchens, such as:
Restaurants
Cafés
Takeaways
Pubs
If you feel that your employer has been negligent in protecting you from hazards relating to wet floors, and you have sustained injuries from having slipped on a wet floor at work, why not get in touch with our team? They'd be glad to check your eligibility to claim.
Workplace Health And Safety Legislation
Under the Health and Safety at Work etc. Act 1974, your employer should protect your health and safety at work. This includes protecting you from injuries you could sustain from a slip or fall on a wet floor. Steps they could take to protect you in this regard could include:
Identifying slippery floors and taking steps to replace that flooring where appropriate
Clearing up spillages swiftly
Utilising wet floor signage where appropriate
Diverting employees away from areas they know are slippy
Can I Claim For Slipping On A Wet Floor If I'm Self-Employed?
If you have slipped on a wet floor at work when you are self-employed, it may be worth considering whether you could claim against the workplace owner/operator for your injuries under the Occupiers' Liability Act 1957. Under the Act, buildings used by the public must not pose harm to health. If you're working in a place where the building owner/operator has failed to clear up a spillage or has failed to signpost it, for example, and you slipped on water at work there, you could still launch a claim. For free legal advice on claiming compensation when self-employed, why not call our team?
Causes Of Having Slipped On A Wet Floor At Work
There are many different causes of slips on wet floors at work. These could include:
Water spillages: These could be particularly relevant to a restaurant, pub, café or takeaway, where kitchens are busy and water is involved in cooking and cleaning.
Other wet product spillages: These could be relevant to supermarket accidents as well as food-service based businesses. If something is knocked off a shelf, it could cause a slippery spillage.
Building issues: Leaking pipes and ceiling leakages could cause a wet floor.
Cleaning: Many workplaces necessitate regular cleaning. If too much water is left on the floor or warning signs aren't utilised, this could pose a slip hazard.
What Injuries Could Slipping On Water At Work Cause?
Depending on how far a person falls after they have slipped on water at work, injuries could range from minor to severe. In some extreme cases, where a fall from height is involved, they could be fatal. In general terms, injuries common to slips, trips and falls could include:
Damage to soft tissues (including bruising)
Skin damage (including lacerations and cuts)
Broken bones and fractures
Ligament and tendon damage
Head and neck injuries
Wrist injuries
Knee injuries
Ankle injuries
Whatever injuries you sustain when you slip on a wet floor at work, it is imperative that you seek medical advice. Not only could that mean you are treating your injuries appropriately, but it could also serve as proof you've suffered those injuries.
How Could Employers Prevent Slips On Wet Floors At Work?
Employers could help to prevent slips on wet floors at work in a number of different ways. They may take steps such as:
Putting proper cleaning procedures in place to minimise wet floors. This could include training cleaners to use dry mops to minimise the drying time of a floor, or using the appropriate amount of cleaning product to minimise slipping risks.
Ensuring they have appropriate signage. Wet floor signs could be used to warn workers of risks, or to cordon off certain areas that may pose a slip risk.
Training employees in correct spillage management. Ensuring there is a protocol for spillages where they are signposted and cleared up quickly could prevent a slip at work.
Risk assessing flooring. If there is a particularly slippery floor in the workplace, an employer could take steps to replace it to remove this type of slip hazard.
What Might Happen If You Slip On A Wet Floor And It's Your Employer's Fault?
If you sustain injuries from having slipped on a wet floor at work because your employer failed to reduce known risks, you could be eligible to claim compensation. We would advise you to follow the following steps:
Seek medical attention. This is, of course, a priority following an injury at work. Getting appropriate advice from a healthcare professional could aid your recovery.
Report the accident. You should report your accident to whoever is in charge of health and safety at work. They should record it in the workplace accident book. If there is no accident book, you may want to consider writing a report and sending it to your employer.
Take photographs of the scene/your injury.
Obtain witness contact details.
Get legal advice. You can call the team here at Advice.co.uk for free legal advice.
If we believe you could be eligible for compensation, we could put you in touch with a personal injury lawyer who could take on your claim under No Win No Fee terms.
Slipped On A Wet Floor At Work No Win No Fee Claims
No Win No Fee claims allow victims of personal injury to obtain professional legal help without paying for it upfront. The claims process usually works as follows:
Your chosen solicitor sends you a No Win No Fee agreement and asks you to sign and return it. You should read this document carefully, as it contains details of the success fee you would pay your lawyer once they'd arranged compensation for you. The success fee is a legally capped fee that amounts to a small percentage of your total payout.
Your lawyer starts to work on your case. They collect evidence and negotiate with the liable party for a settlement. If the other party disputes or refuses your claim, your lawyer could support you through the court process to get the compensation you deserve.
Once your compensation payout comes through, your lawyer takes their success fee from it. You then benefit from the balance.
You would only pay the success fee if your case wins. If your claim was to fail, and there was no payout, you wouldn't have to pay the success fee. To find out about No Win No Fee claims in further detail, why not call our team. Alternatively, you could read our claims guide.
Talk To Our Team
If you sustain injuries from having slipped on a wet floor at work, and you're ready to make a claim, we could help. Or, if you still have questions, or would like to benefit from free legal advice from our expert team, we'd be glad to help with this too. All you need to do to reach us is:
Resources
Hazard Checklist: Employers could use this to identify slip risks in the workplace.
Case Study: This case study, from the HSE website, shows how a slip caused a hospital trust to improve floor cleaning protocols.
Floor Cleaning Guidance: This guide from the HSE offers insight into the importance of floor cleaning and the risks it may help to reduce.
We also have some other guides you may find useful:
Page by O
Published by H