This guide will explain temporary workers' rights if they have an accident at work. Employment rights protect temporary workers. If you are a temporary worker, your employer owes you a duty of care. Therefore, your employer is responsible for your health and safety at work.
You might be eligible to claim compensation if you have had a workplace injury that was caused by the negligence of your employer. Our panel of skilled personal injury lawyers may be able to handle your compensation claim, provided it has a good chance of success.
To begin your accident at work, claim:
Call our claims helpline on 0161 696 9685
Contact us directly about claiming
Use the live chat feature on this website
Select A Section
What Are Temporary Workers' Rights?
When it comes to health and safety in the workplace, temporary workers' employment rights are the same as permanent employees. Employers must follow the guidance set out in health and safety legislation to take reasonable steps to protect temporary workers from accidents.
Therefore, employers are responsible for the following:
Providing temporary workers with the correct training to carry out their roles safely.
Supplying temporary workers with the personal protective equipment they need to carry out their role safely
Maintaining good housekeeping
Temporary workers may be less familiar with their working environment. This should be considered in risk assessments; steps might be taken to ensure that this is mitigated, for example by carrying out an induction for temporary workers.
What Is A Temporary Worker?
Temporary workers are workers who take on a job on a short term basis. A business or organisation may hire a temporary worker directly. Alternatively, the company may hire a temporary worker through an agency.
Who Is Classed As A Temporary Worker?
Any temporary workers are workers that are not full-time, permanent employees. Such as:
Self-employed people who are engaged for a short period of time
Contractors
Seasonal workers
Agency workers
Casual workers
In some cases, such as in agency work, you might technically be employed by the agency. However, if you're injured as a result of a breach of duty of care in an office, for example, then you may still be able to claim against the employer of the office; your claim would not be against the temporary agency even though they are technically your employer.
For more information on how a breach of temporary workers' rights could lead to an accident, speak with an advisor today.
Who Is Responsible For The Health And Safety Of Agency Workers?
Under the Health and Safety at Work etc. Act 1974, employers have a duty of care towards their workers, whether permanent employees or temporary staff members.
To uphold their duty of care, employers must do the following. Firstly the employer must carry out regular risk assessments to identify possible hazards in the workplace. Secondly, the employer has to apply control measures to remove the hazard or reduce the harm that the hazard can do.
There are other pieces of health and safety legislation that apply in the workplace, and that also cover temporary workers. They include:
For more information on temporary workers' rights, and how a breach of these could lead to you being injured, speak with an advisor today.
How Many Accidents Happen In The Workplace?
The following graph shows the most common accidents in the workplace that employers have reported. The most common accident type was slips, trips and falls on the same level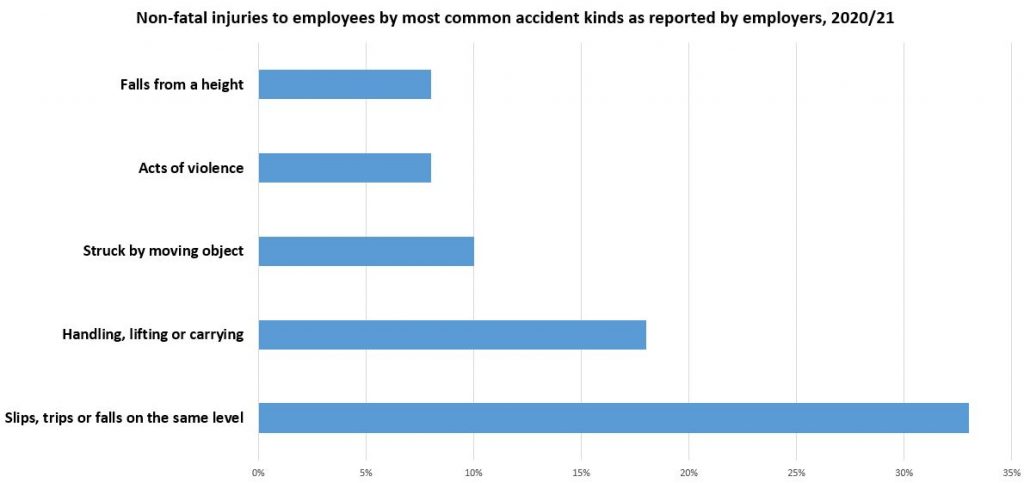 What Could A Temporary Worker Do After An Accident At Work?
As a temporary worker, you might have the right to claim compensation after an accident. To claim compensation, you would need to prove the following:
Firstly, your employer owed you a duty of care.
Secondly, they breached the duty of care that they owed you.
Consequently, you were involved in an accident in which you were injured.
There are some steps you can take after being involved in an accident that might help strengthen your workplace injury claim. These include:
Seeking medical attention, so that your medical records can be used to support your accident at work claim.
Reporting the accident. If your workplace has an accident book on-site, you should fill out an accident book report.
Taking photographs of any visible injuries you have, including a date stamp. You can use the photos as evidence to support your claim.
Asking anyone who saw what happened to provide their contact details. They could provide a statement in support of your version of events.
Please call us today, and an advisor will be happy to answer any questions you may have about temporary workers' rights following an accident at work. If your case is valid, you could be provided with a solicitor from our panel.
Temporary Workers' Rights To Claim For Lost Pay
If your claim is successful, you could receive up to two heads of claim. General damages are compensation for the pain and harmful effects of your injuries. Special damages, on the other hand. are compensation for unavoidable out of pocket expenses that your injuries caused you to incur.
Examples of special damages you could claim include:
Loss of earnings
Medical expenses
Travel costs
Expenses to adapt your home or car
Funds to buy mobility equipment
Care expenses
What Damages Could A Temporary Worker Claim For An Accident At Work?
If you wish to claim compensation for an accident at work, you can use this table to help you work out the amount of compensation you could receive in general damages. Special damages are not included in the table.
Classification Of Injury
Type Of Injury
Compensation
About This Injury
Very Severe
Head Or Brain Injury
£282,010 to £403,990
Damags may be based on 8 points, including,

What degree of insight the person has.
What their physical limitations are.
Their projected life expectancy.
Moderately Severe
Head Or Brain Injury
£219,070 to £282,010
Damages are based on the same criteria, but to a lesser degree than the most severe cases above.
Moderate (1)
Head Of Brain Injury
£150,110 to £219,070
The victim may have a severe to moderate intellectual deficit. The injury may have also impacted their speech, sight and other senses.
Loss Of Sight In One Eye (e)
Injuries Affecting The Senses
£49,270 to £54,830
Settlements towards the top of this bracket may be made if there is also scarring around the eye which is not severe enough to be awarded damages separately.
Loss Of Sight In One Eye (f)
Injuries Affecting The Senses
£23,680 to £39,340
Serious but not total loss of sight in one eye. There is no significant risk to the other eye (either of loss of sight or reduced vision).
Level (c)
Injuries To The Internal Organs
£31,310 to £54,830
Damage to the chest and lungs with some continuing disability.
Level (c)
Injuries To The Internal Organs
£12,590 to £17,960
An injury such as a single penetraing wound which causes permanent injury though no long-term impact on the lungs.
Severe (1)
Back Injury
£91,090 to £160,980
Instances of the most severe degrees of injury. These may affect the spinal cord and nerve roots. Serious consequences could include incomplete paralysis, loss of sexual function and impaired bowel of bladder function.
Severe (2)
Back Injury
£74,160 to £88,430
Injuries which neither fit into the most serious or the lower brackets. There could be nerve root damage and loss of sensation as well as reduced mobility and impairment of bowel, bladder and sexual functions.
Severe (3
Back Injury
£38,780 to £69,730
Fractured discs, disc lesions or other similar injuries which could lead to the victim developing a chronic condition.
We used the guidelines from the Judicial College to create the compensation amounts in this table. However, whilst solicitors use these guidelines to help them value personal injury claims, the individual factors relating to your case will also be taken into account. This means that the final amount of workplace injury compensation you receive may vary.
For more information about how your claim can be valued, speak with an advisor today.
Contact Us To Find Out More About Temporary Workers' Rights
We hope this guide has helped explain temporary workers' rights about your health and safety. Please don't hesitate to contact us to enquire about claiming compensation for a workplace injury.
If there is adequate evidence to support your claim, you can make a No Win No Fee claim. Therefore you will pay a success fee if you win your claim, rather than paying a solicitors fee upfront. If you don't win your claim, there is no success fee to pay. So, there is less financial risk involved for you. What's more, you may find it is the more affordable option because there is no upfront fee to pay.
To begin your workplace injury claim, please contact us today:
Call our claims helpline on 0161 696 9685
Use the contact form on our website to enquire about claiming
Use our live support feature to ask an advisor a question
Agency, Temporary, Self Employed And Contractor Accident At Work Claims
Below, you can find links to lots more guides on accidents at work:
We've also included the following external resources:
An HSE guide to health and safety for temporary workers
The Health and Safety at Work etc Act 1974 explained
Information from the HSE about protecting workers who work from home
We appreciate that you took the time to read our guide to temporary workers' rights.
Page by FS
Published by NS