If you sustain an injury due to inadequate training in the workplace, you may be wondering if you could make a personal injury claim. Many risks of accidents at work could be mitigated with adequate training. Employers have a legal duty to provide instruction where necessary to help decrease the risk of harm in their workplaces. A failure to do so could lead to illness or injury to employees, and those employees could take legal action against their employers.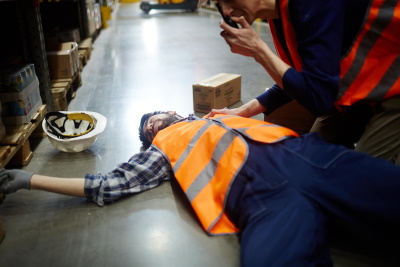 We have created this guide to assist those who feel their injuries resulted from poor workplace training. In the sections that follow, we give some insight into how to calculate compensation for workplace injuries and describe what legal obligations employers have towards their employees regarding health and safety. 
We also look at the different types of inadequate work training-related injuries employees could suffer, and when it could be appropriate for an employer to provide role-specific training. If you're considering making a claim and would like free legal advice, we at Advice.co.uk would be happy to provide this over the phone. All you need to do is call our team on 0161 696 9685.
Select A Section
A Guide To Claims For Injuries Caused By Inadequate Training In The Workplace
Whether you have started a new job or some part of your job has changed, you may receive health and safety training from your employer to help you work relatively risk-free, with new equipment or on a new task. But what happens if your employer fails to provide such training, and it leads to an accident in which you sustain injuries?
Employers have a legal duty to protect your health and safety while at work, and part of that legal duty includes providing necessary training to their employees. If you sustain injuries due to substandard workplace training, your employer may be breaching their duty of care to you. You could also hold them liable for your injuries and launch a compensation claim against them. We have created this informative guide to help you understand more about making such claims.
If, at any point, you find that you'd like to talk to someone about making a claim or for free legal advice, call our advisors on the number at the top of the page. You're under no obligation to proceed with our services after talking. And, if you choose, our advisors could put you in touch with our panel of injury lawyers.
Calculating Compensation For Injuries Caused By Inadequate Training In The Workplace
To calculate compensation payouts for personal injury claims, lawyers must assess all the evidence and facts surrounding each case. No two cases are the same. While you may have seen a personal injury claims calculator online, this type of tool would not be able to provide an accurate sum for potential compensation payouts. 
One piece of evidence that could influence compensation amounts is a medical report. As part of a personal injury claim, you would have to attend a medical assessment with an independent professional. They would read your past medical notes, where appropriate, and examine you, asking questions about your injuries. 
They would produce a report containing details of their professional opinion on your injuries and prognosis. Solicitors and courts could use this report to determine an appropriate settlement amount for your injuries.
Examples Of Injury Compensation Payouts
Below, we have produced a table with figures from the Judicial College Guidelines. This provides guidance on recommended compensation amounts for a range of injuries. If you cannot see your specific injury below, please call our team. We'd be happy to offer further guidance on this over the phone.
| Where Is Your Injury? | Guideline Payout Amount | How Severe Is The Injury? |
| --- | --- | --- |
| Shoulder | £7,410 - £11,980 | Moderate |
| Shoulder | £18,020 - £45,070 | Severe |
| Pelvis/Hips | £11,820 - £36,770 | Moderate |
| Pelvis/Hips | £36,770 - £122,860 | Severe |
| Neck | Up to £7,410 | Minor |
| Neck | £7,410 - £36,120 | Moderate |
| Neck | £42,680 - £139,210 | Severe |
| Leg | £26,050 - £36,790 | Moderate |
| Leg | £36,790 - £127,530 | Severe |
| Back | £36,390 - £151, 070 | Severe |
| Back | Up to £11,730 | Minor |
| Back | £11,730 - £36,390 | Moderate |
| Arm | £90,250 - £122,860 | Severe |
Special Damages For Injuries In The Workplace
When making a personal injury claim for an injury due to inadequate workplace training, you might notice that your payout amount includes different types of damages. We explain more about the types of damage you could claim below.
General Damages
General damages are the non-pecuniary damages you receive for the loss of amenity, the pain and the suffering your injuries cause. The above section illustrates how lawyers could calculate these damages.
Special Damages
You could also receive special damages to compensate you for the financial harm your injuries cause. To claim for special damages, you would have to provide evidence, such as bank accounts, payslips, receipts and bills, so that you could include these damages within your claim. They could include:
Medical Expenses
Did you pay for treatments such as private physiotherapy or prescription medicines because of your injuries? You could include these costs as special damages within your claim.
Travel Costs
You could also include the transport costs you incur while travelling because of your injuries, These could include seeing your lawyer or attending a medical appointment.
Care Costs
If you incur injuries so severe that you require care at home to help you with washing or dressing, for example, you could include care costs within your claim.
Income Loss
You could also claim for any loss of earnings your injuries cause you. Loss of income compensation could also include bonuses and overtime.
What Are Injuries Caused By Inadequate Training In The Workplace?
Before we look at how training could impact your risk of injury in the workplace, we should first answer the question 'What qualifies as a work-related injury?' Simply put, a work-related injury is an injury you sustain that happens because of or in connection with work.
What's The Most Common Cause Of Injury In the Workplace?
The most common causes of injury in the workplace, according to the HSE, are:
Trips, falls and slips on one level.

Carrying, handling or lifting

Strikes by moving objects

Violent acts

Falls from heights
Can I Sue My Employer For Lack Of Training?
Employers should mitigate the risks of harm in the workplace to their employees. One way in which they could do this is by providing training to employees. The training they provide to employees should help them to do their job safely. 
If you could prove that an injury you sustain results from inadequate training in the workplace, you could claim compensation from your employer. To obtain free legal advice from our expert team, simply give us a call.
What Is Appropriate Workplace Training?
Training is, by definition, giving information and instruction to people. Training could be given in a classroom or on the job. Health and safety training is crucial in mitigating risks of harm within the workplace. Employers should provide health and safety training to employees to make sure that:
Employees do not sustain an injury or fall ill by the work they undertake.

They develop a workplace culture where health and safety is second nature.

As an employer, they ensure they meet their legal duty to protect workers' health and safety.

They ascertain how to manage workplace health and safety better.
Effective Workplace Training
The law requires employers to provide as much training, instruction, and information as could be considered reasonably practicable to ensure employees' safety and health. Effective training:
Could help employers avoid complications, financial or otherwise, of employee injury or ill health.

Will go some way towards employee competence in health and safety.
How To Deal With A Lack Of Training In The Workplace
If you feel you are not competent to carry out tasks safely in the workplace, you could ask your employer to provide training. If they fail to do so and sustain injuries in an accident because you didn't receive adequate training, you could have a compensation claim.
Health And Safety In The Workplace
Your employer has certain responsibilities to look after your health and safety while you are at work. These responsibilities are enshrined in law under legislation such as:
The Health And Safety At Work etc. Act 1974: This act states that employers have a legal duty to provide you with a workplace that doesn't cause harm to your health. It also gives employers the duty to ensure that they provide information, supervision, training, and instruction to ensure employees' health and safety at work.
The Management of Health and Safety at Work Regulations 1999: This legislation reinforces the Health and Safety at Work etc. Act 1974. Employers should consider the risks towards employees working for them. They must also ensure that employees are given adequate health and safety training:
When being exposed to increased risks or new risks

If they are being given new responsibilities

When being transferred

If they introduce new technology, new work equipment, or a new system of work
These regulations also state that training should be repeated where appropriate. It should also occur during work hours and be adapted to take into account increased or new risks.
Work-Specific Training
Various regulations cover specific risks to workers, such as:
If you receive inadequate training in the workplace at any point in your employment, and you sustain an injury because of this, you could launch a compensation claim. If you're looking for free legal advice on whether you could have a claim, our advisors could offer this to you over the phone.
How Proper Workplace Training Could Be Provided By Employers
To provide adequate training to workers, employers should risk assess the workplace. They should also assess the tasks that the worker will take on. That way, they can see where training could effectively reduce workplace injury or illness risks. Based on their assessment, the employer could provide training such as:
General workplace safety training – this could be included in induction training

Emergency training

Training on how to use specific equipment

Manual handling training

Work at height training

PPE training
While some of the training an employer could give an employee could be in-house, sometimes they may opt to send an employee on a training course. They could even have an instructor come into the facility to train employees for some job roles. Whichever way they arrange training, they should ensure that it is up to date and regularly refreshed to ensure employees are always aware of effective ways to work safely.
A failure to update training to reflect a changing work environment, new equipment or a change in employees' condition could leave an employer liable if a worker were to sustain an injury due to poor training.
Causes Of Injuries Made By Inadequate Workplace Training
Inadequate workplace training could cause injuries in several ways. There are some types of training specific to certain job roles and tasks. Employers should ensure that the employees they task with jobs that require special training receive such training to work safely. 
They should also make sure that new workers receive training on how to operate in the workplace safely. Workers could suffer injuries if they do not receive training at all of if training is inadequate. 
Some examples of what types of training employers should consider providing to workers could include:
Induction training – workers could be given induction training to show them how to operate safely in their surroundings.
Manual handling training – if an employer expects an employee to undertake manual handling tasks, they should provide training to take on such tasks safely.
Work at height training – if part of a worker's job is to be done at height, employers must train them how to do so safely.
PPE training – if an employer provides an employee with PPE to avoid the risk of harm, they should train the employee in how to use the equipment safely.
Equipment training – if employers require workers to use specific equipment as part of their job role, they should ensure they know how to use the equipment safely.
Injuries Caused By Dangerous Procedures And Practices
Inadequate training in the workplace could cause a range of injuries. We describe a few of these below:
Fall injuries: If you haven't received training for work at heights, you could suffer a fall. Fall injuries could range from minor cuts and bruises to broken bones and more serious and complex injuries. In some cases, a fall from a height could be fatal.
Manual handling injuries: Manual handling injuries could include strains and sprains in the back, neck and limbs. You could also suffer broken bones if a load crushes a body part.
Electrical burns or shocks: If you aren't sufficiently trained to use electrical equipment safely, you could suffer

electric shocks or electrical burns

.

Chemical burns or exposure: If your training does not show you how to work with chemicals safely, this could lead to eye injuries, lung injuries or other injuries from exposure to chemicals, such as burns.
If you believe you could prove that insufficient training had a part to play in causing your injury during a workplace accident, you could be eligible for compensation.
Types Of Inadequate Workplace Training Accidents
There are lots of accidents that could happen as a result of inadequate training at work. These could include:
Falls from height: These could happen from scaffolding, ladders or other heights if there is a lack of training in working at height safely.
Manual handling accidents: Whether lifting, carrying or pulling/pushing loads, you could suffer injuries due to a lack of adequate manual handling training.
Electrical accidents: You could suffer electric shocks or burns if you don't receive training on working safely with electrical equipment.
Chemical accidents: Inadequate training in a workplace where chemicals are present could cause you to suffer chemical burns or overexposure to dangerous substances.
Inadequate PPE training: If an employer provides PPE to you, they should also train you to use it safely. If they do not, you could suffer injuries from using PPE ineffectively.
These are just a few examples. If you would like to check whether you could be eligible to claim an inadequate training work injury, we could help. Our advisors could provide free legal advice for your specific circumstances. Why not give our team a call today?
Workplaces With Higher Injury Risks
While every industry carries its risks to employees, several professions could be considered higher risk than others. Substandard training in the workplace for those we mention below could be particularly risky.
Warehouse and factory workers: Poor training on equipment and machinery operation could lead to a workplace injury.
Mechanics: Poor workplace training could lead to back injuries due to extended hours spent in awkward positions
Painters: Inadequate training at work could cause injuries relating to incorrect posture or workers' exposure to chemicals
Laboratory workers: Insufficient training of lab workers, could cause illness due to hazardous chemical exposure.
Electricians: Inadequate training in the workplace could lead to electrical burns or shocks
Construction workers: Inadequate training on working safely at height or elsewhere on a construction site could lead to falls.
Dock and shipping workers: These workers could be involved in manual handling tasks. Inadequate manual handling training could lead to musculoskeletal injuries or other lifting injuries.
Kitchen workers: Insufficient or inadequate training could cause kitchen workers to suffer burn injuries, cuts or electrical shocks, for example.
As well as ensuring employees have appropriate PPE to help protect them from risk from doing their job, employers should ensure they have adequate training to minimise the risk of injury. If you believe you've suffered an injury due to a lack of training at work, we could provide free legal advice to you over the phone.
No Win No Fee Claims For Injuries Caused By Inadequate Training In The Workplace
Should you decide to launch a personal injury claim for inadequate training at work causing injury, you may consider getting professional legal help. If you are, you may be pleased to learn that if you choose a No Win No Fee personal injury lawyer to handle your claim, you don't pay them anything unless your claim is successful.
How Do These Claims Work?
Generally speaking, the No Win No Fee claims process works as follows:
Your solicitor sends a No Win No Fee agreement over to you. They ask you to read, sign and return the agreement to them. The agreement details the success fee you will pay if your claim is a success and your lawyer achieves a payout for you. The fee is subject to a legal cap so it can only be a small percentage of your total payout.

You sign and return the agreement, and your lawyer starts work on your claim.

If your case wins and the liable party pays your compensation, the solicitor deducts the agreed success fee, and you'd benefit from the balance.
Could No Win No Fee Claims Fail?
Usually, solicitors only take on claims if they are confident they would be successful. However, sometimes claims do not result in compensation. If you work with a No Win No Fee personal injury solicitor and your claim fails, you won't pay the success fee or cover their costs. 
Should you want to read about such claims in more detail, you can find our No Win No Fee guide here. If you prefer, you can call us at any time with questions about claiming in this way.
Contact Us
To benefit from free legal advice, or get help starting your claim for an injury due to inadequate training in the workplace, why not get in touch? We could even put you in touch with a personal injury lawyer to fight for the compensation you deserve. To reach the Advice.co.uk team, simply:
More Information
What Are The Negative Effects Of A Lack Of Training In The Workplace? – The HSE provides information on benefits and costs of poor health and safety at work to employers.
How To Deal With Poor Training At Work – Worksmart offers guidance on what to do if you believe you are not receiving the proper training to do your job.
Manual Handling Training – The HSE provides information on manual handling training.
Probation Period Injury Claims – In this guide, you can find out how to claim if you sustain injuries while on probation.
Accident At Work Guide – We offer more insight on claiming against an employer for a workplace injury here. You can also find details of the personal injury claims time limit that could apply to your claim.
Was I Partially At Fault? – This guide shows how some claimants could still claim if they are partially at fault for a workplace accident.
We also have a bunch of dedicated guides on making an accident at work claim, which you can read below:
Page by OS
Published by NH/HE