By Cat Helena. Last updated 23rd June 2022. Welcome to our guide to ankle injury settlement amounts for UK claims. In it, we look at why using an ankle injury compensation calculator in some cases could be misleading. We also answer questions such as 'What is the average payout for a sprained ankle?' ' How much can I claim if I broke my ankle at work?' and 'Would I get more compensation for broken ankle permanent damage than for a sprain?'
The ankle is a complicated joint. It is crucial in supporting the leg, helping us to walk and run. We tend to think that an ankle injury is something that affects sports people, and they are often associated with exercise. If you have had an ankle injury, such as a fractured ankle, sprained ankle, or have twisted your ankle and are reading this guide you will know that ankle injuries do not have to be either related to or caused by exercise. Walking on uneven ground or a simple fall could cause you to suffer serious soft tissue injuries, such as damage to the ligaments supporting the joint.
What is the average payout for a sprained ankle? Your ankle injury claim questions answered
In this guide, we will look in detail at the circumstances in which you could suffer an ankle injury, as well as looking at some of the most common types of ankle injury suffered in the UK. We will then advise you on the best way to make a personal injury claim for compensation and answer common questions such as "how much can I claim for an ankle injury?". We have also included our contact details at the bottom of this guide.
Select A Section
A Guide To Claiming Compensation For An Ankle Injury
The ankle in an important joint and even a simple ankle injury, such as a twisted ankle, can have a big impact on you. As the ankle joint bears the bulk of our weight, it is hardly a surprise that ankle injuries are quite common. In the majority of instances, they will have been caused by everyday activities. You could have simply been walking down the street and tripped over a paving slab. Whilst we can all be a bit clumsy sometimes and cause ourselves an accident, your ankle injury could also be the result of another person's negligence or error. If your ankle injury was caused by another party, we could be able to help you claim compensation.
Some headline statistics surrounding ankle injuries show their prevalence. According to the British Medical Journal, 14% of people attending an A&E with a sprained ankle were classed as a severe ankle injury. This equates to 42,000 with a severely sprained ankle. To find out the answer to questions such as "can I sue for a sprained ankle?" please read the rest of our guide below.
The Latest Ankle Injury Compensation Amounts
The latest ankle injury compensation amounts can be found in the Judicial College Guidelines (JCG). These amounts cover what you could receive in terms of general damages, which is one of the heads of claim you can pursue. General damages aims to compensate you for the suffering caused by your injuries, as well as the impact they have had on your daily life.
Unfortunately, there is no average payout for a broken ankle, as general damages are calculated depending on the circumstances of each case. However, the compensation table below provides some of the guideline brackets provided by the 16th edition of the JCG, published in 2022. Please note, though, that these figures should only be used as a guide and don't necessarily reflect what you could be awarded following a successful claim.
| Injury Type | Level of severity | Settlement amounts | Comments about injury |
| --- | --- | --- | --- |
| Ankle Injury | Very severe | £50,060 to £69,700 | Injuries falling into this bracket are 'limited' and 'unusual'. Examples include a bilateral fracture causing degeneration in the joint. |
| Ankle Injury | Severe | £31,310 to £50,060 | Injuries which require an extensive rehabilitation period. |
| Ankle Injury | Moderate | £13,740 to £26,590 | Less serious fractures, sprains and ligaments. |
| Ankle Injury | Modest | Up to £13,740 | Injuries will be resolved in a short amount of time. |
| Achilles Tendon | Most Severe | In the region of £38,430 | Severed tendon and peroneus longus muscle. |
| Achilles Tendon | Serious | £24,990 to £30,090 | Repair of a completely severed tendon, with residual weakness. |
You may also be able to claim special damages. Special damages are a part of some ankle injury compensation amounts, but not all claimants are eligible. This is because they cover any financial impacts you may have suffered as a direct result of your injuries. For example, these could include:
Loss of earnings as a result of time away from work
The cost of taxis or other transport to and from places you would have otherwise walked
Walking aids and mobility equipment
For a free estimate of the amounts of ankle injury compensation you could receive, contact our advisors today.
Ankle Injury Settlement Amounts In The UK – Can I Use An Ankle Injury Compensation Calculator?
You could use an ankle injury compensation calculator or a personal injury claims calculator as an alternative. However, you should only use the figure you're provided as a guide because you're actual ankle injury settlement amount will vary.
If you wish to get a more accurate valuation of your injuries, you may find it beneficial to hire a solicitor. A solicitor from our panel could take your case on a No Win No Fee basis. As part of their services, they could accurately value your claim.
For more information on the ankle injury settlement amounts in the UK, call our team.
Examples of Ankle Injury Settlement Amounts in the UK
Ankle injury compensation amounts following successful claims can consist of general damages and special damages. As mentioned above, general damages relate to the impact the injuries caused by the accident have caused you, including the pain and suffering you have experienced. To receive this, you would need to prove that your injury was caused by third-party negligence. It's important to remember that you can claim for multiple injuries as part of the same claim if they were caused by the same accident.
Special damages relate to the losses you've suffered financially from your injuries. As such, when making ankle injury claims, losses you may be able to claim for include:
Travel costs
Adjustments to your home
Loss of earnings. If your injury is long-term or permanent, you could also claim for future loss of earnings if it has led to you being unable to work.
Healthcare costs
Care costs. For example, your ankle injury may result in you needing the services of a private nurse while recovering.
You would need sufficient evidence illustrating the value of the financial losses you're claiming for. Examples of evidence you could use include payslips, invoices, bank statements and receipts.
To learn more about the ankle injury claims procedure, please contact us for free legal advice using the details above.
What is the average payout for a sprained ankle relating to special damages?
Special damages are designed to compensate you for the financial effect of the injuries you suffered. We have explored what they might cover in the section below.
Ankle Injury Settlement Amounts In The UK – Medical Expenses
If you have required medical treatment that wasn't available on the NHS, you could claim back the costs under special damages.
Ankle Injury Settlement Amounts In The UK – Travel costs
Travel expenses incurred because of your injury, such as travelling to the hospital, doctors or other medical facilities can also be recovered.
Ankle Injury Settlement Amounts In The UK – Effects on your income
Depending on the severity of your injury, you may find that you needed to take time off to recover. You could lose both income and workplace benefits, such as pension contributions. Your personal injury claim can compensate you for any loss of earnings.
For an accurate assessment of ankle injury settlement amounts for UK cases, talk to a personal injury solicitor.
How Do I Get The Average Payout For A Sprained Ankle?
Each case is assessed and valued on an individual basis by taking into consideration different factors. For instance, medical evidence may be used to determine how severe your ankle injury is and the extent to which it will continue to affect you in the future.
For that reason, there are no average ankle injury settlement amounts. Instead, you could call our team and they can provide an estimate of how much your injuries are worth based on factors unique to your case.
What Is An Ankle Injury?
Your ankle is one of the more complex joints in the body. It has to move through a variety of different plains of motion, rotate and support the body. The joint is made up of several bones, tendons, and ligaments. With a variety of tissue types and functions, the joint is susceptible to a variety of injuries. These include a fractured ankle, twisted ankle, sprains & strains, as well as dislocations.
An injury to any part of the ankle can be very painful and due to the joints function, they can place a severe restriction on your ability to walk and move about. Even minor injuries can result in you needing to take time off and rest the joint.
Anatomy Of The Ankle Joint
The ankle is the joint attaching the foot and leg together. It is comprised of soft and connective tissues as well as three bones. These bones are
The tibia (shin bone).
The fibula.
The talus (foot bone above the heel).
Each of the bumps of bone in your ankle also have specific names.
The bump on the inside of your ankle is called the base of the tibia and is called the medial malleolus.
You can feel a bump on the back of your ankle is again part of the base of the tibia. It is called the posterior malleolus.
At the low end of the fibula, on the outer side of the ankle, you can find the lateral malleolus.
The function of the ankle
The purpose of the ankle is to allow your foot to move up and down. Below the ankle joint is the subtalar joint. This is the joint allowing side-to-side movement. Surrounding these two joints are ligaments which bind the bones to each other and to the foot.
Common Types Of Ankle Injury
Before we take you through the process of making a personal injury claim it is worth looking at some of the most common types of ankle injuries. These injuries can happen in a variety of different ways and do not have to be associated with sporting activities, exercise, or workplace accidents. These include;
Broken ankles.
Ankle sprains.
Twisted ankles.
Lacerations, cuts and severe bruises.
Dislocated ankles.
The most common type of injury are ankle sprains and strains. Whilst these can be a relatively simple injury, they can still take between two and six weeks to recover from. In the meantime, you may not be able to properly walk or be able to work. Those injuries which are the most painful may also not be those which take longest to heal. A dislocated ankle is more painful than a ligament injury. But the ligament may take longer to heal.
What impacts ankle injury settlement amounts in the UK?
There will be a significant variation in how severe ankle injuries are and their effects on you. For that reason, the settlement you receive will vary.
However, as long as you can prove that the injury you sustained was caused by someone else's negligence, you could make an ankle injury claim to seek compensation.
Fractured Ankle And Broken Ankle
As we have seen, there are several bones in the ankle and the subtalar joint which could be broken or fractured. You can find out more about fractures and breaks, such as a broken ankle, from the NHS.
The most severe forms of a fractured ankle might require surgery to correct. In some cases, the break or fracture may also damage the supporting ligaments and surrounding tissues.
This type of injury will take a little longer to heal and will restrict your mobility whilst you recover.
To find out whether you can claim compensation for talus fracture and how much you can claim for a fractured ankle, talk to our experts today.
Twisted, Sprained And Strained Ankle Injuries
There are various types of ankle sprains, including an inversion ankle sprain and an eversion ankle sprain. If someone acted negligently causing you to sustain a similar ankle injury, you could make a personal injury claim for your pain and suffering.
Inversion ankle sprains
These happen when you roll your ankle inwards or when you twist your ankle in an inverted way. This stretches and damages the lateral ligaments. It a very common type of sprain and in the majority of cases is quite mild.
Eversion sprained ankle
In these cases, the sprain is caused by your foot turning inwards, rather than outwards. Again, this will affect the ligaments in the ankle. It is less common and can be more serious than the previous category.
If you have twisted, sprained or strained your ankle, you could make an ankle ligament injury claim.
Treatment Options For Ankle Injury Strains, Sprains And Fractures
How your ankle injury will be treated and the length of time it will take to heal will depend on the type of injury suffered and its severity. Broadly, the treatment of an ankle injury can be broken into three types. These three are treatments for an ankle fracture, treatment of sprains and treatment of tendon injuries.
Depending on how serious these are there may be cases where invasive or surgical treatment is necessary to correct any damage. In other cases, they can be treated with a combination of rest and recovery. To make a claim for an ankle injury, please contact our advisors today to find out more.
Causes Of Ankle Injuries That Incur Ankle Injury Settlement Amounts In The UK
There are a variety of circumstances in which your ankle can be injured and in which you are eligible to make an ankle sprain claim. They can happen at any place or time. Some of the most common causes of this type of injury are as follows;
Sporting and exercise-related injuries.
Accidents in the workplace.
Slips and falls on the street, or whilst walking on private property.
Slips and falls caused by wet or damaged floors.
Car crashes or other road traffic accidents.
Damaged or broken staircases.
However, you must show that someone breached the duty of care that was owed to you, causing you to sustain harm to seek compensation.
In these instances, you could seek compensation for your ankle injury.
Achieving ankle injury settlement amounts in the UK
Remember, whilst you are often owed a duty of care by drivers of vehicles, public bodies responsible for maintaining the pavement or a shop, you must also exercise your own common sense. If you make a personal injury claim for a sprained ankle or other forms of injury, the courts will determine the degree of negligence the party you are bringing a claim against had.
Claim Compensation For An Ankle Injury Caused By A Slip Or Fall
Ankle injury claims might involve different accidents. For instance, a slip, trip or a fall at work or elsewhere. For instance, in the street to a public park, when crossing the road, in a shop or restaurant. No matter when you slipped or fell over, if another part was responsible for the accident, such as a local authority failing to repair and maintain pavements, you could claim for an ankle injury settlement.
If you suffered a sprain or strain because of a slip or fall accident in a public park, on the street, or when crossing the road, you could make a sprained ankle injury claim against the council.
However, if you suffered a broken or fractured ankle due to a fall in a shopping center, supermarket, or restaurant because they had not observed their duty of care as an occupier, you could make a personal injury claim for your broken ankle against them.
If you are unsure of who was responsible for your accident or whether you have grounds to claim, talk to a personal injury lawyer today to check your eligibility to make a claim.
Claim Compensation For An Ankle Injury In The Workplace
As per the Health and Safety at Work etc. Act 1974, all employers owe their employees a duty of care.
Whilst you are at work your employer has a duty of care to ensure that you are kept safe and free from harm. This responsibility is the same whether you are in your usual place of work, or somewhere you are sent. There are numerous different ways in which you could sustain an ankle injury at work, but the most common of these are slips and falls.
Having an ankle injury in the workplace could lead to you being immobile for an extended period of time and either reduce your ability to work, or prevent you from doing so. If you make a fractured, twisted or sprained ankle injury claim against your employer, you can include any earnings already lost and future earnings.
Find out more about claims against your employer by discussing your case with a personal injury lawyer. They could value the ankle injury settlement amounts you may be entitled to.
Claim Compensation For An Ankle Injury In A Road Traffic Accident – RTA
Ankle injuries sustained in a car accident tend to be more serious, such as breaks and fractures to the bones of the ankle. Your road traffic accident could have happened whilst you were a driver, passenger, or even as a pedestrian. It could also have involved any vehicle, such as a car, lorry, bicycle or motorbike. You could also have sustained your accident whilst on public transport. As long as you can show that another road user or person was responsible for the accident happening, you could claim compensation.
Most vehicles do not have any specific safety features to protect your lower legs, so they have a higher chance of being injured. If you have sustained an ankle injury in a road traffic accident, find out how much for a fractured ankle you could claim by contacting a specialist solicitor.
What type of road accident could cause broken ankle permanent damage?
Unfortunately, road traffic accidents in the UK could cause broken ankles and other ankle injuries. In 2020-21, the Department for Transport provisional figures relating to the number of casualties on Great Britain's roads. As you can see below, it is not only car occupants that are listed as having suffered casualties. You could suffer broken ankle permanent damage from an accident as a pedestrian, cyclist, or another type of road user. If you could prove this was someone else's fault, we could help you claim compensation.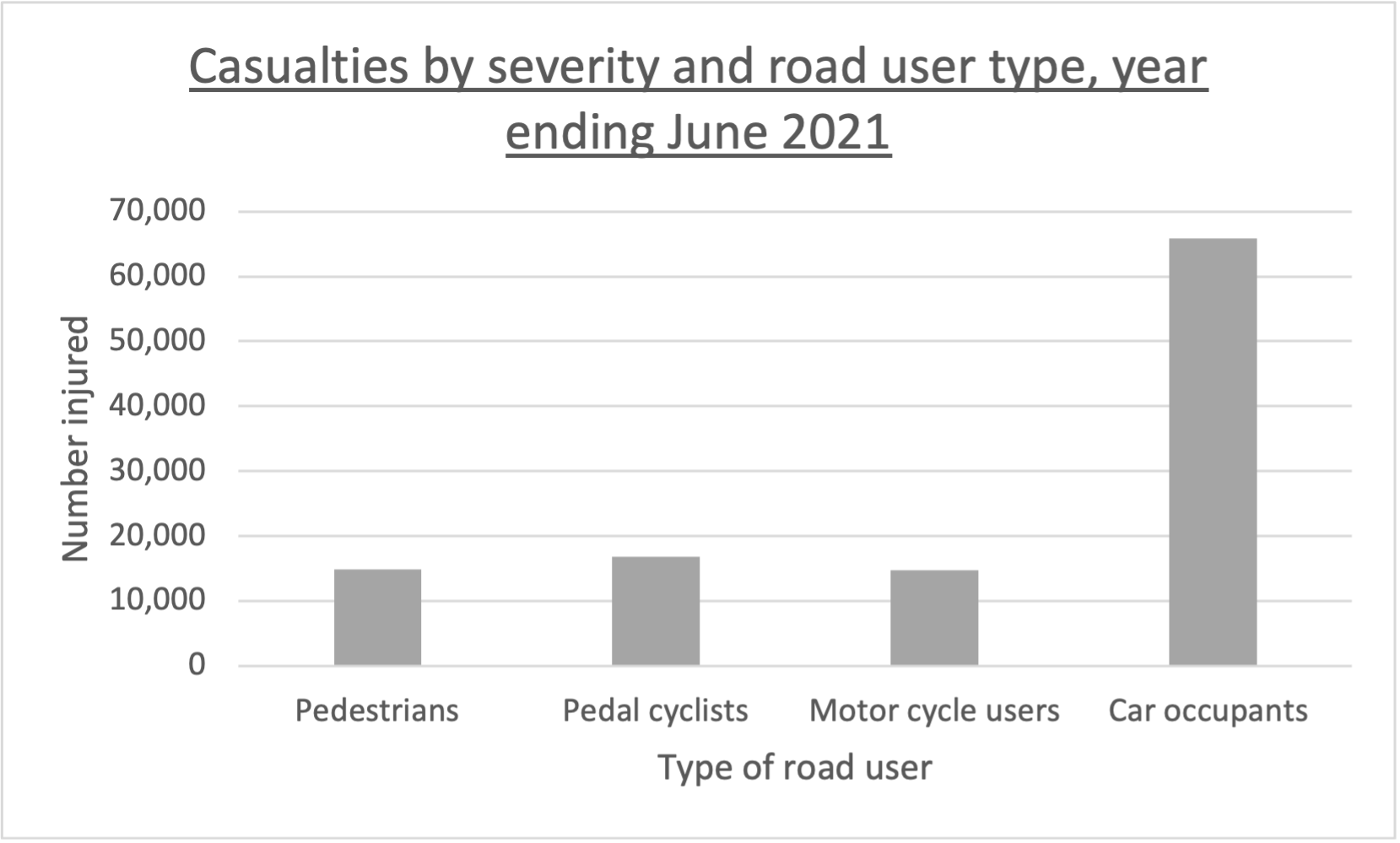 Time Limits – How Long Do I Have To Claim Compensation?
No matter the reason you are making a compensation claim for, you need to make sure that you do so within the appropriate personal injury claims time limit. Currently, this time limit is three years, with the starting point either being taken from the date of the accident, or the date from which you became aware that the accident or injury was caused by someone else's negligence.
For more information, call our team, as there may be exceptions.
How To Start A Fractured, Sprained, Or Twisted Ankle Claim
When you are injured the first thing that you should do is to get any medical help and treatment you need. Your health should always be your primary concern. To be able to sue for your sprained ankle or other types of injury there are several steps you should take.
Make sure that you report the injury to any relevant parties such as a shop, the local council, driver of a vehicle, etc. Make sure that the injury is recorded in any appropriate accident report books. Combined with the immediate medical report, this begins creating a trail of evidence your solicitor can use in your claim.
Next, we recommend that you do sit down and make a note of your injuries. If you can, accompany this with any photographs of the injury and the area the accident happened in. Also, make a record of any witnesses who could provide evidence.
These immediate steps will help your solicitor or lawyer to build a stronger case for your claim.
We would next recommend contacting a personal injury lawyer or solicitor and obtaining legal advice. These specialists can provide advice as to the validity of your claim and whether or not you are likely to be successful.
If the solicitor takes on your case they will conduct steps such as forwarding evidence of your accident and injuries to the defendant and details of how your case will be pursued. In straightforward cases, it is likely that there will be an out of court settlement. In the majority of cases, the ankle injury claim will be settled out of court.
No Win No Fee Ankle Injury Solicitors
Across the country, many ankle injury claims are made through No Win No Fee agreements. These agreements are beneficial for the claimant and solicitor. Such agreements ensure that only claims which are valid are pursued. For the claimant, there are no initial fees to pay and under any eventuality, there are no financial losses.
To learn more about making a No Win No Fee twisted, sprained or fractured ankle compensation claim, speak to an expert advisor today.
How Our Friendly Advisors Can Help Injury Victims Achieve Ankle Injury Settlement Amounts In The UK
We like to think that our advisors have the knowledge and expertise to help you. They will take the time to listen to you with a friendly and sympathetic approach. If you wish to make a claim with our team, you can take these three simple steps.
| Step One | Step Two | Step Three |
| --- | --- | --- |
| Collect together details of your claim and call our team. | We will then assess whether you have a valid claim. | We will provide you with a solicitor for your claim. |
Call Our Personal Injury Advisors To Claim Ankle Injury Settlement Amounts In The UK
Get in touch with our expert advisors today. You can contact us by calling on 0161 696 9685, or you can use our online contact form by clicking 'contact us' at the top of this page.
One of our helpful advisors could provide further clarification about the average payout for a sprained ankle and on using an ankle injury compensation calculator. They could also assess whether you have a valid claim. If you do they could appoint a solicitor from our panel to represent your claim.
Advice And Resources On Ankle Injury Claims And Ankle Injury Settlement Amounts For UK Cases
NHS Guide To Broken And Fractured Ankles
In this guide from the NHS, you can find information on fractures and breaks to the ankle.
Sprains And Strains
In this NHS guide, you can find information about treating sprains and strains. We do recommend that you seek medical treatment from a doctor even for a minor injury if you wish to make a claim later.
Did you sustain an ankle injury at work due to your employer's negligence? If so, see our helpful guide.
Visit this guide on seeking compensation for injuries sustained in a pavement tripping accident.
See the guide above for information on claiming compensation for an ankle injury sustained in a car accident.
Compensation Claim For Foot Injuries
Visit the guide above if you have experienced a foot injury due to someone else's negligence.
FAQ about ankle injury settlement amounts for UK claims
I broke my ankle at work – how can I prove it?
If you want to prove that you broke your ankle at work, there are several pieces of evidence that could help this. You would need an accident report, which you could get from the accident book at work. In addition to this, you could gather witness statements, and obtain independent medical evidence of your injury. You could also dig out any proof of loss of income or other costs associated with the accident and your injury.
What is the average payout for a sprained ankle?
Knowing the average payout for a sprained ankle would not really have an impact on how much your individual case could achieve. All claims, whether for a broken ankle at work or a sprained ankle in the street would be assessed separately. Your individual claim would dictate the level of compensation you'd receive. Please call us if you would like to learn more about ankle injury settlement amounts in the UK and how much your claim could bring you.
Why Is There No Average Compensation For An Ankle Injury?
When starting a claim, many people are interested in finding out what the average payout is for an ankle injury. However, there is no such thing as an average figure when it comes to personal injury claims.
This is because the amount you may receive is dependent on a number of factors. First of all, in terms of general damages, there are a number of circumstances that are considered when calculating your compensation. These can include:
The severity of your injuries
How long it will take for you to recover
How your injuries have affected your life
If your injuries have affected your employment, or your chances of future employment
If your injuries have affected your mental health or wellbeing
Special damages depend on the individual financial losses you might suffer. As we mentioned earlier, if your claim is successful, these two heads will come together to form your final sum of compensation.
However, it is possible to get a broad idea of what you could receive. You can contact our team of expert advisors today to get a free estimate of what your claim could be valued at, or check the compensation calculator table at the top of this page.
We hope this guide on the ankle injury settlements in the UK has helped. If you have any additional questions about making an ankle injury compensation claim, please get in touch using the details above.